I have 3 rigs at home.
1 x Nvidia 3080 FE (Founders Edition)
1 x Gigabyte Nvidia GeForce RTX™ 3080 GAMING OC 10G
1 x Gigabyte Nvidia GeForce RTX 2070 Super
The top two are used as main gaming rigs. The third is used as a server of sorts.
All the GPU's are not LHR. As such, I wanted an easy way to passively mine with them when idle.
There is a plethora of different mining groups, pools etc, but I wanted something that just worked even if I am missing out on a small percentage of perceived profit.
I use the Nicehash Quickminer on all the rigs. Below is a breakdown as of 4th April 2022 of the profitability of each rig.
The Nicehash Quickminer program has a great utility for efficiency setting.
As you can see in the below picture (click it to expand) you can see the full efficiency/profit for all three rigs.
I am using the Optimize profile MEDIUM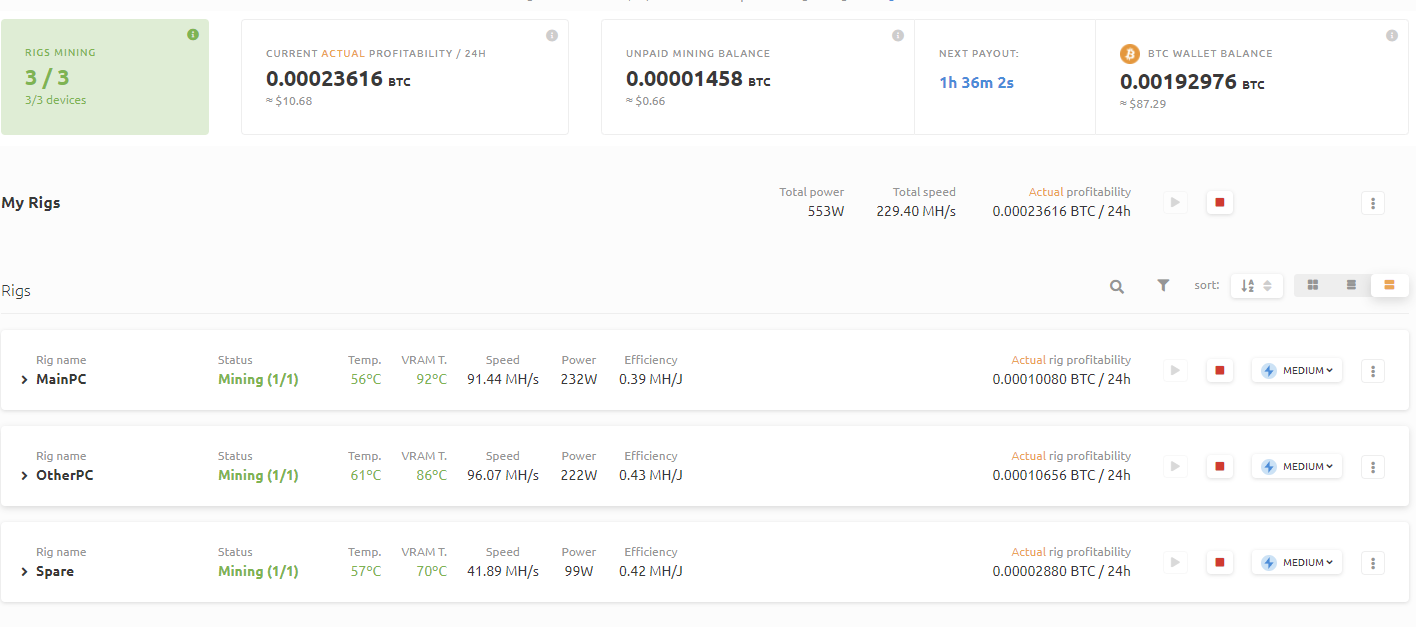 There is no pool to configure just the copy/paste of your Nicehash wallet address when you spin it up. The documentation during installation is great to.
So, I have been using Nicehash for a while, probably ~1 year. Over that time, I have ensured I clean and maintain my rigs from dust etc. and keep the airflow good. Issues will arise if you do not take care of the equipment. The fact that I am using a lower clock/voltage than stock using the Optimize profiles means I am not putting too much strain on the equipment.
I did, however, apply the new thermal paste and thermal pads to each graphics card before mining. Posts may come in the future regarding this.
Withdrawing is painless. There used to be free withdrawals to Coinbase. That however has ceased. But the fee for withdrawing is negligible.
I usually withdraw when the balance in Nicehash hits just over $100. I withdraw to Coinbase.
The future of the QuickMiner is unknown. When ETH goes POS QuickMiner may end or the approach that the company is doing may change.